Avast Antivirus Review 2024: Does it Protect Your Computer?
Avast Antivirus is a family of cross-platform Internet security applications developed by Avast for Microsoft Windows, macOS, Android, and iOS. Avast Antivirus products include free and paid versions that provide computer security, browser security, antivirus software, firewall, anti-phishing, antispyware, and anti-spam, among other services.
Avast is a well-known antivirus program having millions of users worldwide. Still, many users over the web have found it suspicious and reported it as a threat to their PC.
This made the existing and potential Avast users worry about if it is safe to use or not. To know about the reality, we installed and used the free version of the Avast antivirus and have concluded certain points that will be shared here.
WHAT IS AVAST ANTIVIRUS?
Avast is an antivirus program available for Windows, Mac, Android, and iOS users. It is a very popular tool that is known to protect your computer from harmful viruses, malware, spyware, and all other threats.
This tool comes in a free and paid version. The free version comes with certain limitations that make you think about switching to the paid version. Avast Antivirus has more than 400 million users worldwide and the number is growing every minute.
DIFFERENCE BETWEEN AVAST FREE & AVAST PREMIUM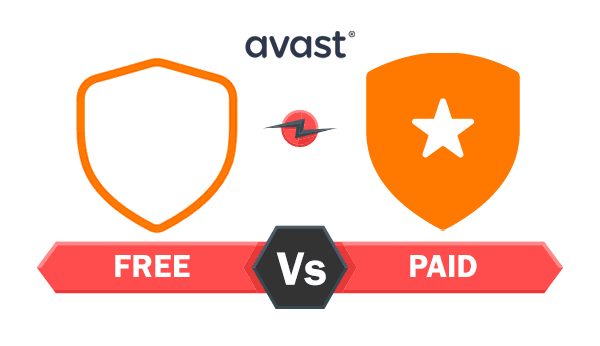 AVAST FREE VERSION
The company, Avast, claims that its free version is superior than few other paid software offerings. A test conducted by AV Comparatives showed these words were true as the free Avast software was much quicker in scanning than some significant rivals.
In reality, it was the fastest software among all. An effort, that most free anti-virus can't match is that, Avast Antivirus support nearly 37 languages. To add to this, the free version Avast is mostly same as the paid version.
AVAST PAID VERSION
The paid version of Avast has important features that are not included in the free version. These are SafeZone and process virtualization, or Sandbox. SafeZone gives you the protection you need to surf the Internet safely.
This version uses a web browser that prevents programs from exploiting your data or viewing your browsing section. If you are working in your financial zone, it is wonderful to keep everything a secret. Another feature, SafeZone, does not use any plug-ins, or the software is applied to display certain material or content on websites. The reason is that spyware can sometimes take advantage of them.
The Sandbox feature gives you the freedom to run suspicious software in a remote, protected environment. You can even run the default web browser in Sandbox. Sandbox will not allow any malware to access your system, even if you unknowingly run it or visit a harmful website.
There are a total of three paid versions of Avast antivirus which are:
Premium Security, Single-Device
Premium Security, Multi-Device
Ultimate
IS AVAST SAFE?
It is safe to use Avast as an anti-virus. Whether it is a free form of Avast or the paid form of Avast, it is safe to use. We can say that it is safe, as we have discussed in the above section.
But, if you are a heavy user, then we would recommend you to use the paid version of Avast anti-virus. We can consider using the Free version of Avast, as any other free anti-virus does not have this much feature. It is absolutely safe to use Avast anti-virus.
Does Avast Sell Your Data?
Avast had been selling data on user behavior on the internet (including Google searches) since 2013 when they acquired the company called Jumpshot.
They claimed that the data was anonymized before being sold to interested parties, but the reputational damage had already been done. Some tools even decided to label Avast as spyware. The Mozilla and Opera browsers removed the software from their packages.
After the data collection practices were discovered, the company decided to close Jumpshot. However, it is unclear whether they stopped collecting user data or not.
So right now, the company is not selling data, but no one knows what might happen in the future. And it is up to users to decide whether Avast can be trusted or not. For more information, read the privacy policy on their site.
Is Avast Safe for Online Protection?
Avast is safe for online malware protection because it realizes that every time you browse the Internet without protection, you become vulnerable to many online attacks in the form of malicious emails, risky pop-ups, unknown installation of software from theft, spyware transport and various others. terrifying threats.
The free version of the antivirus does not provide you protection against any of these as it does not contain a firewall. When you subscribe to a paid version of Avast, it comes with an impressive multi-layered firewall.
This firewall is all you need to protect yourself from online attacks, breach attempts, and dangerous websites. The multi-layered firewall gives you alert notifications, regularly scans your websites, calculates your risk exposure, and protects against online threats in real time.
The final answer on Is avast safe for online protection: the free version doesn't do much to protect you from online attacks and threats, but paid subscriptions come packed with a host of features to provide you with one of the best protection services in the world. line. Therefore, if you want to use a safe antivirus, the Avast Premium or Ultimate version is the best option for you.
CONCLUSION – AVAST ANTIVIRUS REVIEW
So how do we start with the question of whether Avast is safe. We have come to the conclusion that the answer to this question is yes, it is safe to use this antivirus. You don't save so much when we use the free version but with the premium version of this antivirus we are protected.
And the premium version is safe to use. As the free version has some limitations, we do not recommend that you use the free version. But, if you are not using any of the antivirus, you can also go for the free version.
This is our concern for this antivirus that Everest is safe for our PC. If you have any questions or queries related to this, please let us know in the comment section at the bottom.
RELATED SEARCHES:
How To Uninstall Avast Antivirus
Is Avast Safe For Windows 10
Is Avast Safe For Android
Is Avast Good For Malware
Is Avast Safe For Mac
Avast Antivirus Is Bad
Avast Security
Is Avast Safe 2024